Hi my name is Jenny Oyné, I was born in Germany and today I live in Rome. I lived with my family in Paris where I was lucky enough to be able to attend the prestigious high school of design and graphic arts "ESAG Penninghen", dedicating myself to my passion for art.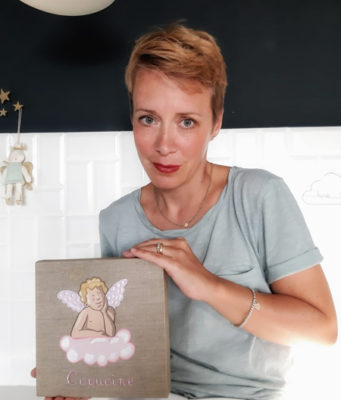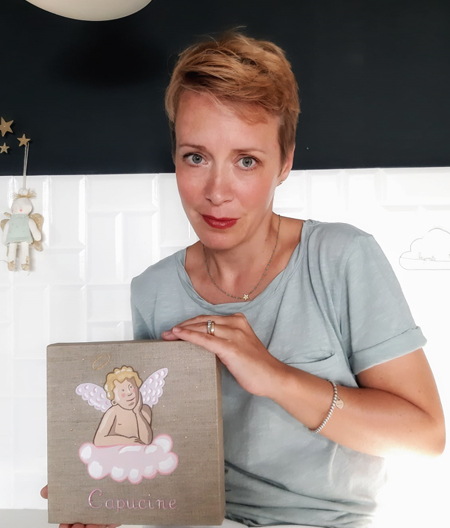 I have a romantic soul, I love fairy tales and its characters: teddy bears, bunnies, ballerinas and dolls, toys that come to life with the imagination and innocence that dominates the world of children.
I have always wanted to express, represent this world and create something unique and personal, trying to freeze the memories of the most fantastic period of our existence, childhood in an image and in a few letters.
Hence the idea of ​​creating "La vie à pois", Ua line of creations that ranges from paintings to cushions, from backpacks to bags, not forgetting albums, favors and birth bows.
Small works of art painted by me and embellished with inserts of buttons, bows and laces, perfect for decorating children's bedrooms with a hint of dream and magic, that touch of romance that is now being lost a little, but which I believe instead it can do a lot of good for both children and mothers.
It has been born for 10 years La vie à pois and that I have the pleasure and honor of being able to discreetly take part in such important and exciting moments in your life. For this reason, those who buy one of my creations will have the security of receiving or giving away a product made with such care and love.
Some works by "La vie à pois"Are also suitable for the world of adults. Contact me if you have projects to carry out, I am always curious and attracted to new creative ideas!
Jenny Oyné